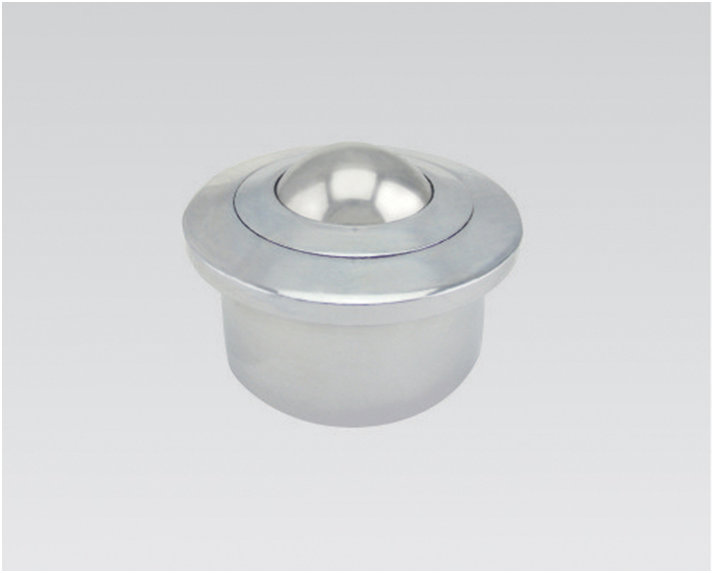 Ball Transfer Units (BTU) - Push Fit Medium Duty Ball Transfer Units -- M Series
Supplier: Hunan Jintai Hardware and Machinery Co.,Ltd.
Description: Medium Duty ball units are machined from solid steel & case hardened for wear resistance. Reinforced machined steel top cap protect against impact from misalignment of the conveyed item. Lubricated for life & zinc plated for resistance to corrosion. Standard materials; Body & cap
•          Ball Material: Carbon Steel, Stainless Steel, Other
•          Ball Size: 0.5000 to 2.38 inch
•          Barrel Diameter: 0.8660 to 3.94 inch
•          Features: Drain/Exit Hole
Hunan Jintai Hardware and Machinery Co.,Ltd. is a professional manufacturer on various kind of bearings in China for over 15 years.We are making all kinds of sliding bearings including DX POM composite bushing

,

spherical plain bearing

,

bimetal bearing

,

ball transfer units ball bearing

,

wrapped bronze bushing

,

cast bronze bearings

,

guide slide bearing,DU bushings,SF bushings, and wear plate bearing pad, sintered bronze bushing and sintering parts, graphite bearing, etc.
 
Export to America,Canada,Poland, Czech Republic, Slovakia, Hungary,Laos, Cambodia, Myanmar, Thailand, Malaysia, Brunei, Singapore, Indonesia, Germany,Austria,Switzerland,Liechtenstein,Brazil,Peru,Argentina,Chile,Paraguay,Europe,Poland, Czech Republic, Slovakia, Hungary, Austria,Mongolia, North Korea, South Korea, Japan, Australia, New Zealand,Philippines,Switzerland,Liechtenstein,Britain,Finland,Colombia, Venezuela, Guyana, Suriname,Ecuador, Peru, BoliviaChile, Argentina, Uruguay, Paraguay,Palau, Federated States of Micronesia,Marshall,Islands,France,Germany,Italy,Spain,Sweden,,Estonia,Ukraine,Turkey,Austrial,Russia,Korea,Malaysia,Singapore,Thailand,Egypt,Kenya,Somali,
Congo,Zimbabwe,South Africa,etc.